1988
Representatives of the New York Area Bi Network and Bialogue work with GLAAD and Act Up to protest biphobic "Midnight Caller" episode (
link
)
Letter from NBC in 1988 regarding "Midnight Caller"
2005
GLAAD takes action when New York Times promotes bisexual stereotypes (
link
)
Mar 2008
GLAAD practices bi erasure in Myspace entry, changes to inclusive language after requests from BiNet USA and Bialogue
Aug 2008
GLAAD practices bi erasure during Prop 8 campaign, makes no changes despite requests (
link
)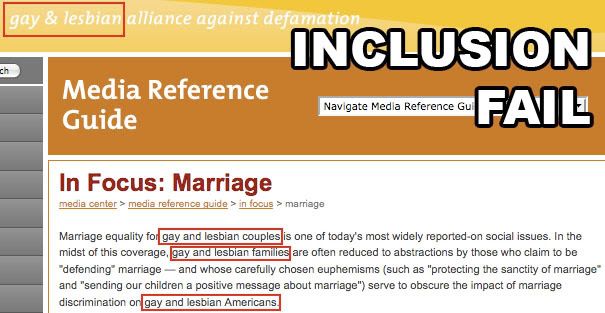 Bi Erasure in GLAAD's 2008 Media Guide
Oct 2008
GLAAD privately assists with removal of "Bi Now, Gay Later?" poll on E! Online, but makes no public statement of support
Aug 2009
BiNet USA requests several bi-specific updates to GLAAD Media Reference Guide with no result
Sep 2009
GLAAD publishes blog post series on Celebrate Bisexuality Day
Dec 2009
GLAAD Media Reference Guide is updated to include outdated BiNet USA contact info
April 2010
Bi Filmmaker Kyle Schickner attends GLAAD Media Awards and protests the lack of acknowledgement of bi people including recently out Anna Paquin (
link
)
April 2010
Bisexual staffers who work at GLAAD report that the organization makes things really uncomfortable for out bi people
July 2010
BiNet USA approaches GLAAD about ABC's "The View" spreading misinformation about black bi men, but GLAAD's full page ad and press release erases the bisexual leaders and organizations who began working on the issue first
2012
Bi Trans activist Aud Traher creates
Change.com petition
for GLAAD to change outdated definition of bisexual in GLAAD Media Guide
2012
Requests to GLAAD for assistance with Google blocking the word bisexual are ignored

http://www.change.org/petitions/google-inc-unblock-the-word-bisexual-from-autocomplete
2013
Faith Cheltenham, BiNet USA President meets with GLAAD staffers to discuss bi community issues. Provides GLAAD with bi community press release, blog posts, and updated Media Guide which receives no response from GLAAD.

2014
GLAAD staff undergoes Bisexual Awareness Training in both LA and NY locations. Co-sponsors first annual Bisexual Awareness Week (#biweek) by tweeting support and creating blog posts on the event and asks BiNet USA to host content on bisexualweek.com where it can be cross posted by GLAAD.

2015
GLAAD co-sponsors Bisexual Awareness Week #biweek and attends Bisexual Policy Briefing at White House alongside BiNet USA and other bisexual organizations and experts. GLAAD launches first ever bisexual section of website, glaad.org/bisexual and releases videos of bisexual people seeking to increase visibility for the B in LGBT.